Mothercroft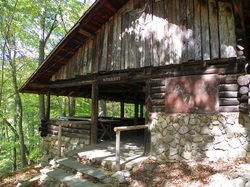 Capacity: 16 people
Electric: yes
Upstairs has two lofts for sleeping.
Downstairs adequate room for pitching tents on the cement floor. Also has large fireplace (working)
Latrine out back door.
Water - Yes, April to November 15; Headquarters Well or West Well Nov through March.

View of lake and camp
Outdoor campfire can be at Council Fire Ring or nearby Beaverville/Dormanville - Fire Permit when issued to you will determine location.

Mothercroft is a large building built into the hill. It is considered a lean-to because there are no window or door covering.

Fee: $145 for the camping weekend, Friday to Sunday at noon.






---