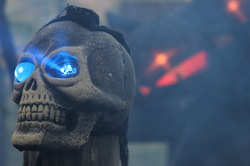 Spook-A-Ree

Date: October 13-15th, 2017


Families and Group leaders will receive an e-mail with detailed check-in information along with a map of camp, program, Saturday dinner menu, Sunday cold buffet breakfast menu- optional, suggested packing list, inclement weather program, two weeks before the Spook-a-ree. This should be forwarded to all coming to the event with you.

Car Pool is required. Our parking lot is limited in size.

Activities: spooky archery, spooky golf, arts & crafts, Halloween group games. Halloween Magic show. Halloween BINGO with prizes! Pumpkin Pitch game! Costume parade, Haunted Hike, Saturday dinner in the dining hall, closing campfire about 8pm.
Saturday program opens up at 10:30 am and runs to 2:30pm. Down time 2:30pm to 4:45.
Gather at Amphitheatre for costume parade and Halloween song and story fest, dinner, haunted hike, closing campfire.

Who: Families with young children, cub scout and brownie groups, other youth groups.

Camping: tent site is included in the fee. Cabins available at extra cost (see campsites & cabins. Tents with mattresses rental for $25.

Cost: $20 per person age 12 or younger. $25 per person for ages 13+ Fee includes all activities, dinner on Saturday, tentsite or leanto, and trucking to campsite. Cabin fee not included.

Sunday morning cold buffet breakfast in the dining hall, $5 per person. This is optional, tickets required for admission.


---